For the first time since 2012….and considering it was Brady Skjei, it worked out rather well thus far…the New York Rangers have managed to keep their first round pick in the NHL Entry Draft. For the 2017 edition, the Rangers will select at the 21st spot in the opening round.
Despite keeping their first rounder, the selection takes on greater importance considering the Rangers have traded away selections in the next three rounds to Carolina, Detroit and Colorado in deals that brought over Eric Staal, Brendan Smith and Nick Holden respectively. They do, however, have a fourth round pick thanks to a deal made with Florida involving Keith Yandle.
So what can the Rangers do when their name is called with the 21st pick at United Center? Here are five names to keep an eye on….
D Urho Vaakanainen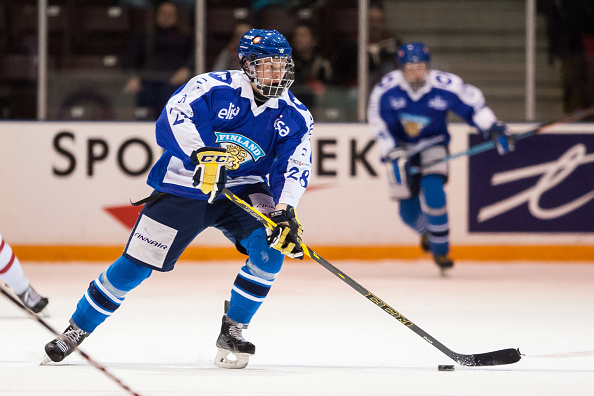 The Rangers used their first two picks on defensemen in last year's draft (Sean Day and Tarmo Reunanen) and could continue the trend with this Finnish prospect, ranked the 8th best European skater in NHL Central Scouting's final draft rankings. Vaakanainen comes from a hockey family, his father Harri having played professionally in the Finnish leagues as well. While Vaakanainen is not known for his offense, he has drawn praise for being able to play strong defense while staying out of the penalty box, a strong tool in helping his team keep leads. Among defensemen, Vaakanainen, who ironically played for a team known as the "Blues" in Finland, currently ranks as the third best European defenseman on NHL.com, and has been described as an ideal tool in one-goal games.
D Erik Brannstrom
Ranked slightly behind Vaakanainen is Brannstrom, a Swede who has accomplished more offensively. According to The Hockey News's Ryan Kennedy, one scout has compared Brannstrom to "the closest thing to Kimmo Timonen". Brannstrom was at his best in the Swedish junior leagues, putting up 53 points over 60 games in the past two seasons, adding seven more in this year's postseason. At 5'10, 179 lbs., Brannstrom's size is a bit of a red flag, but his high hockey IQ and offensively production could make him a late-opening round steal for the Rangers or another recent playoff team.
LW Maxime Comtois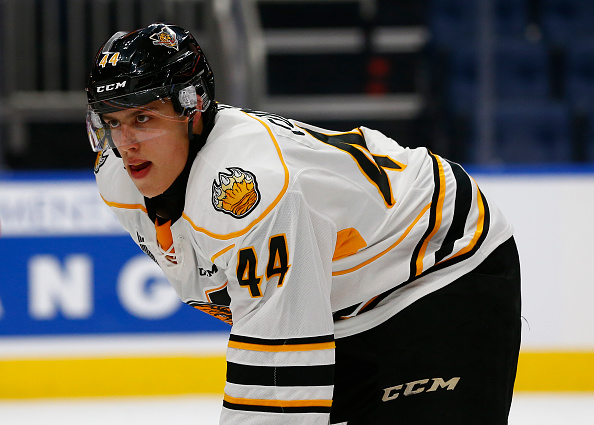 Comtois will be used to the draft process, as he went third overall in the 2015 QMJHL Draft to the Victoriaville Tigers. Had he been eligible for the draft two years ago, Comtois might've been a lottery pick, as he put up 87 points in 57 games in Canada's top developmental league, the QMAAA. But while the number remained respectable in Victoriaville (66 points in 68 games), some scouts saw the decline in scoring as Comtois peaking, lowering him in mock drafts. He slightly was able to change the narrative in international play, representing both a QMJHL All-Star team and the Canadian national team well. Add a dash of physicality and grit, and you have a prospect eager to show his early years were not a fluke.
RW Kailer Yamamoto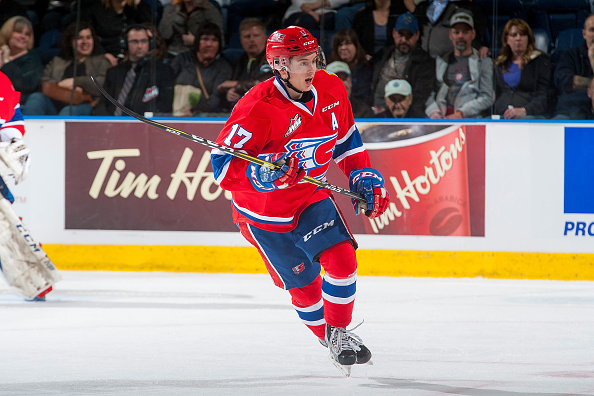 At 5'9 160 lbs, Yamamoto is another undersized prospect, but one who can pay huge dividends. A native of Spokane, Washington, where he played for his hometown Spokane Chiefs of the Western Hockey League, Yamamoto is considered one of the better American prospects in the draft, recently coming off a 13-point performance in the U-18 World Junior Championships, third amongst all skaters in the tournament. Much like Russell Wilson did for football, players like Tyler Johnson are bucking the trend that size is an absolute necessity for a hockey player. Coming from the same league as Nolan Patrick, whom some predict will go to New Jersey with the top overall pick, Yamamoto could end up being a steal for a team on the cusp of a Stanley Cup.
C Shane Bowers
A Nova Scotia native, Bowers has been praised by scouts for his all-around game. He posses a good deal of skill, praised for his, as one scout put it "200 foot game" and has shown to be an asset in the faceoff circle. Bowers has spent his junior years in the United States Hockey League, whose long list of alumni includes TJ Oshie, Max Pacioretty and Johnny Gaudreau. As a member of the Waterloo Black Hawks, Bowers has tallied 84 points over the past two seasons. Some have labeled Bowers's versatility as a weakness, leaving the jury out on whether he would be a better center or winger. In October, Bowers committed to Boston University.
[the_ad id="2694″]