In "Welcome to New York", the opening track of her classic album "1989", Taylor Swift accompanies the chorus/title with "It's been waiting for you!"
Apparently, the New York Rangers couldn't wait much longer for Lias Andersson.
In a trade that sent two of their more prominent veterans to the Arizona Coyotes, the Rangers earned their first top ten pick since 2010, and first opening round selection overall since 2012. The Rangers used that selection on Andersson, the first of seven selections they made over the weekend. Of that group, five are listed as some form of center, ironic consider one of those traded was a center himself, Derek Stepan.
Like any great love, the draft will keep you guessing, so get to know the new Blueshirts below!
1st Round: C Lias Andersson (7th overall from Arizona)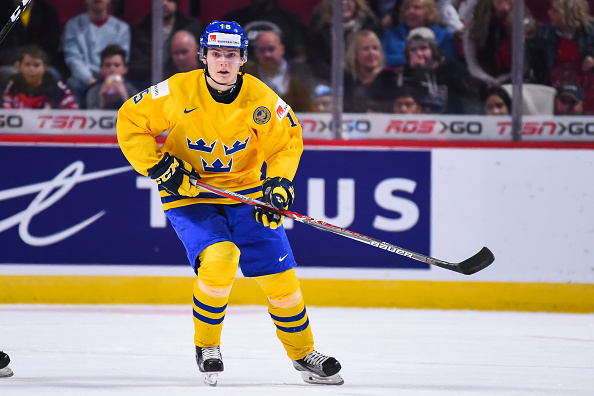 (Photo: Getty)
Last team: HV71 (Swedish Hockey League)
Ranked third amongst European skaters by NHL Central Scouting, hockey is in Andersson's blood. His father Niklas and uncle Mikael have over 1400 games of professional hockey between them, with Mikael playing 17 seasons in the NHL. Praised for his two-way skills in the SHL, Andersson helped his team win Sweden's equivalent of the Stanley Cup, the Le Mat Trophy, last season. While the 18-year old had a little trouble amongst the veterans of the SHL, (19 points in 42 games) Andersson starred on the international level, helping Sweden to a silver medal in the 2016 U-18 World Junior Championships. He may need a little development to the professional level, but his two-way versatility and wrist shot, the latter on display in the World Juniors, has much impressed Ranger scouts, apparently enough to trade two vital pieces of their team to select him.
1st Round: LW Filip Chytil (21st overall)
(Photo: Eliteprospects.com)
Last Team: HC Zlin (Czech Extraliga)
Chytil's stats aren't exactly eye-popping (8 points in 38 games), but at 17, he was holding his own in the Extraliga, the highest level of Czech hockey. Chytil uses his speed to his advantage on both sides of the ice, creating scoring opportunities on offense and creating turnovers on defense. Chytil won't contribute to the New York roster, or even Hartford's, immediately, but a few more years overseas should help him out, and his rookie year at such a young age gives him a bit of a head start. Better scoring numbers could be seen against more of his contemporaries. On HC Zlin's junior team, he put up 50 points in 30 games during the 2015-16 season.
4th Round: D Brandon Crawley (123rd overall from Nashville via New Jersey and San Jose)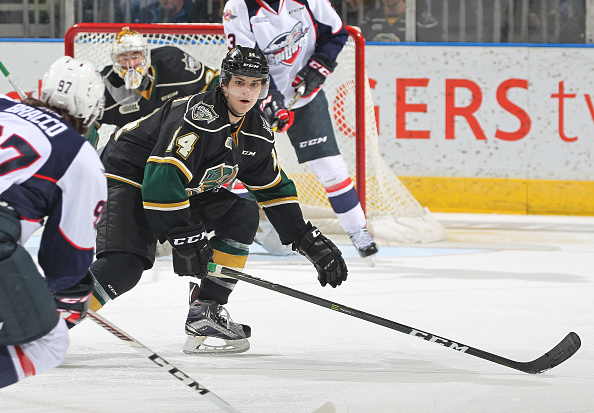 (Photo: Getty)
Last team: London Knights (Ontario Hockey League)
A Glen Rock, NJ native, Crawley wasn't the biggest defenseman on the London roster, but he made a major impact when he took the ice. At 55, his plus/minus was good for fourth among all skaters in the OHL, and second among defensemen. His offensive numbers have also increased in each of his three OHL seasons, but another number that's increased each year is his penalty minutes. The Rangers can use tenacious defensive help, but not to the tune of 114 PIM in 61 games.
5th Round: C/D Calle Sjalin (145th overall)
(Photo: Eliteprospects.com)
Last team: Ostersunds IK (Division 1 (Sweden))
Also at 17, Sjalin is likewise still a work in progress. He competed on the third-highest level of Swedish hockey last season, and will enjoy a promotion to the second level with Leksands IF of Allsvenskan next season. In 34 games last season, he tallied 15 points, and also partook on Sweden's U-18 team.
6th Round: C Dominik Lakatos (157th overall from Vancouver)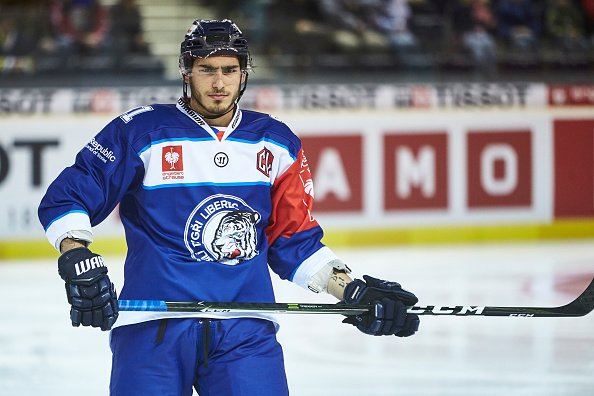 (Photo: Getty)
Last team: HC Bili Tygri Liberec (Czech Extraliga)
Another younger prospect playing in his coutnry's top league, Lakatos showed progress against the best of what his country has to offer, putting up 22 points in 41 games. The performance earned him the Extraliga's Rookie of the Year honors, previously bestowed to Tomas Plekanec, Tomas Hertl, Milan Michalek, and Milan Hejduk.
6th Round: C Morgan Barron (174th overall from San Jose)
(Photo: Twitter: @m_barron1998)
Last team: St Andrew's College (CAHS)
Barron is committed to Cornell University…ever hear of it?…and will get a taste of his potential future MSG home in November when Big Red visits to play Boston University. Recently Barron held the captaincy at St. Andrew's, the largest boys' boarding school in Canada. He tallied 60 points in 57 games.
7th Round: C Patrik Virta (207th overall)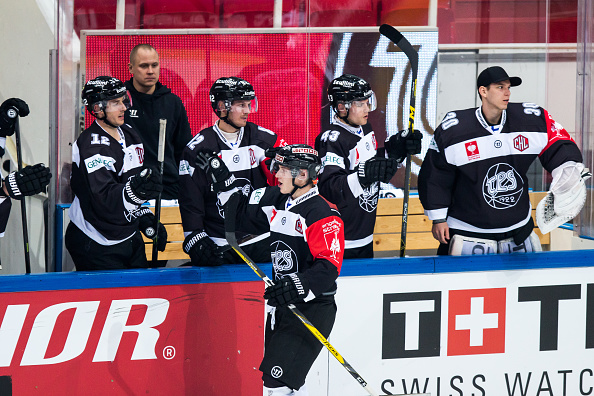 (Photo: Getty)
Last team: TPS (Liiga)
The oldest of the Rangers' selections at 21, Virta has spent two season in Liiga, the top Finnish league. He improved his point total from 4 to 26 and helped TPS to a runner-up finish in the regular season. He saved his best for last, putting in five goals in six playoff games.
Geoff Magliocchetti is on Twitter @GeoffMags5490
[the_ad id="2694″]